Work on the internet as an affiliate and earn money from the comfort of your home, just like millions of others
How to profit from the fastest growing, future-proof billion dollar market and build your own internet business as an affiliate from home with no start-up capital.
Even absolute beginners learn in the courses of Affiliness the most important basics about a functioning business on the Internet.
I didn't think it was that easy to recommend other people's products and make money with them.
It's easier than I imagined to make money on the internet without any prior knowledge, thanks for the tutorial!
I like the approach of automating and systematizing everything. I was able to take a lot away from the course.
For being a free course, there is a lot of practical and useful knowledge included, thanks for the input!
I find the free course super informative and educational! It gives me a lot of confidence to recommend other people's products as an affiliate.
I already make a decent living as a product broker, yet I was able to learn a few new things in the course.
The course gets straight to the point and explains what really matters when building an online business.
Right now, we are experiencing turbulent growth in the consumer market and Affiliness is highlighting realistic opportunities to capitalize on this.
Thanks for the tips, they really helped me! Now I have a better understanding of what an affiliate is and how they work.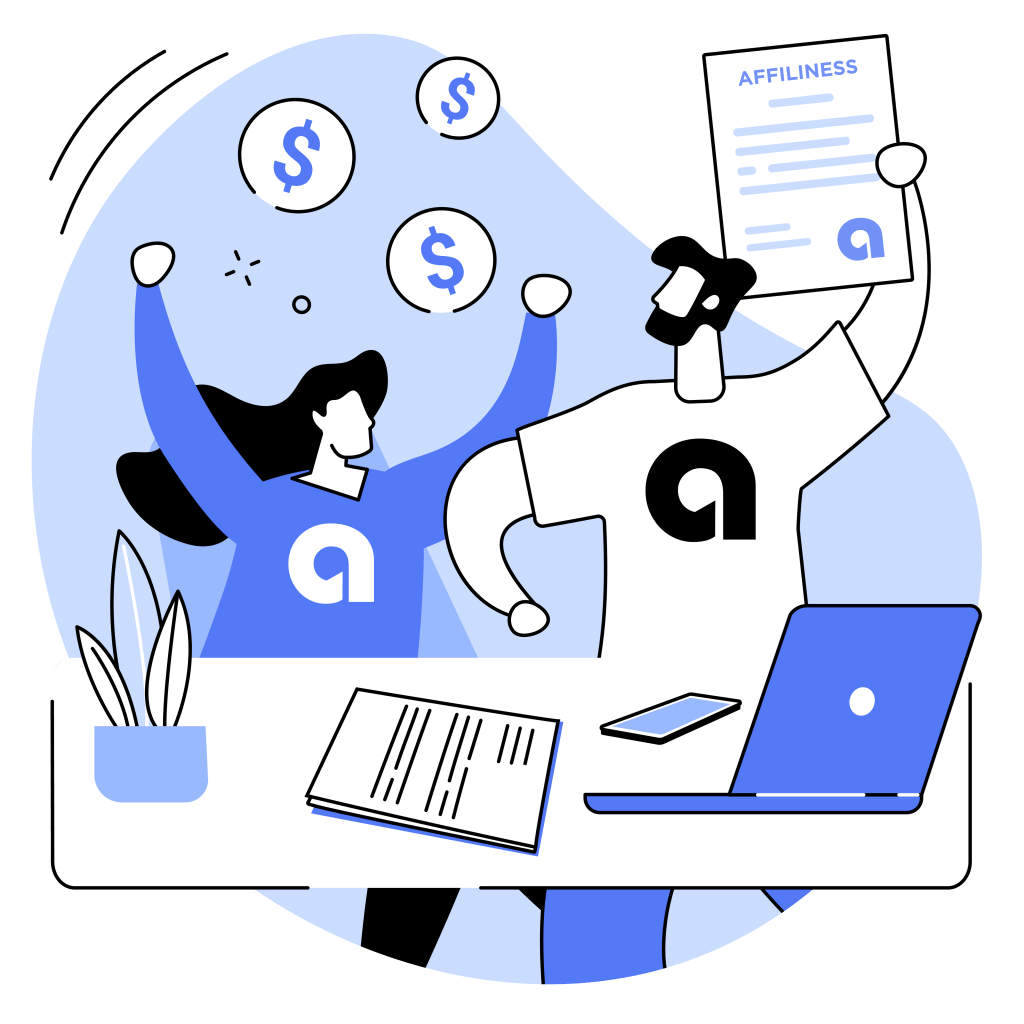 Why you should earn money on the internet as an affiliate from home.
There are many business models and earning opportunities on the internet, but only affiliate marketing offers unique benefits that no other business model can deliver.
$0 Start-up capital
You don't need money to start your online business as an affiliate. You just bring your time and exchange it for money. Later, you can use systems to save yourself this work and earn money automatically.
1,000+ Earning opportunities
There are thousands of ways to earn money on the internet as an affiliate. Plus, there are millions of products that you can recommend instantly on a commission basis.
Work without stress
Work when, where and how much you want. You only need internet access and a laptop to make money as an affiliate. Say goodbye to stressful work and hello to the modern, flexible work of the future.
No warehouse and shipping
You don't have to ship or store products. You leave that to sellers like Amazon and many others, who take care of sales and shipping and pay you commissions for customers.
No problems and contact with customers
You don't have to deal directly with customers, and you don't have to deal with their problems. You simply send potential customers to a provider and receive a commission for the referral.
No risk
The risk always lies with the providers, because they conclude contracts with customers and must comply with numerous legal regulations. You as an affiliate only help with customer acquisition and earn money from the sales.
No obligations or contracts
As an affiliate, you can work with thousands of providers and freely choose your business partners and change them at any time because there are numerous alternatives. There are no obligations or contracts.
Sustainable business and revenue
Affiliate marketing has been around for decades and will be around for decades to come. Once you learn it, you can use it to make money on the internet for a lifetime and influence your own income.
Complete automation
The entire affiliate business can be 100% automated because the systems that are critical to success are on other people's shoulders and you as an affiliate are doing the easiest work that can be done without manual work.
Who is the Affiliness online course for?
The free online course is not suitable for everyone. Only those who fit exactly into the target group and meet some requirements will benefit maximally from the course.
Home workers on the internet

You are or want to be a home worker and earn your money from the comfort of your home on the internet. You will be your own boss and take full responsibility for your actions.

Knowledge of basic office work

You must already know how to do basic office work. This includes creating texts and documents, writing emails and using the internet properly.

Discipline & motivation

You need to have a basic discipline and be able to motivate yourself at all times to work on your projects and online business, this is about your financial independence.

Interest in sales & marketing

You must like sales and marketing, even if you just recommend other people's products. Big money is made on the internet with sales and marketing.

Willingness to learn

The course provides a lot of practical knowledge and shows project examples that could produce results. You need to absorb new knowledge and apply it later to benefit from it.

Willingness to act

The course provides well-founded information and practical knowledge, but this is of little use if you are not able to put simple instructions into practice.
Sign up for the online course
Yes,

I want to learn how to build a sustainable and profitable internet business in the free online course from Affiliness, where the core business is recommending other vendors' products for commission...
Frequently asked questions and answers (FAQ)
The following questions are frequently asked by many beginners in the affiliate business. If you have further questions, please contact support via contact form.
How does the online course work?

After you sign up, you will immediately receive a compact, informative brochure as a PDF via email, which will teach you the most important basics of affiliate marketing. In the days and weeks that follow, you will receive further information by email that goes into detail and provides you with essential knowledge for success.
Can I unsubscribe from the course at any time?

Yes, if you find that you do not like the material presented in the course or if you cannot work with the course for any other reason, you can unsubscribe either by emailing support or in any course email.
How long does the course last?

The course is designed to provide the basic knowledge that will enable even beginners to successfully promote products on commission within a month. After that, you'll receive regular advanced knowledge and strategies via email to help you get even more out of your affiliate business.
Is there any cost associated with the course?

No. Every participant can start a successful affiliate business on the internet with the content included in the free course and successfully earn money with it. The focus of the course is to generate initial income without starting money and then increase it step by step.
How much time do I need to bring?

The more, the better, especially in the beginning. But you can also start with just one hour per day and earn your first commissions from product recommendations within a few days.
Is the business model legal?

If Amazon, eBay, Walmart, and thousands of other well-known retailers are working with affiliates and paying out millions to them, you can be sure that it's a reputable and legal business model.
Is it difficult to make money as an affiliate?

Once you learn the basics and know how to recommend the right product to the right people, it's not hard to build an income as an affiliate. Most affiliates either have the wrong combination of target audience and product, or work with bad products and make it hard for themselves to earn income with their business.
Do I need any prior knowledge?

Apart from the ability to do office work and use the internet, you can start from scratch and learn everything along the way to build an income. There are many well-known affiliates who have managed to build a million-dollar affiliate business without any significant prior knowledge.
Do I need to create a website or blog?

No. In modern online marketing, you don't need your own website or blog to make money as an affiliate. In fact, these tools are often the reason so many affiliates fail. Beginners should even specifically avoid these tools to build their first affiliate income faster.
Do I need to learn how to sell?

Ideally yes, because even as an affiliate you need to know how to sell products, even if you are basically just a product broker and have nothing to do with the actual selling. If you can sell, you can recommend products much more effectively and earn more commissions, that's for sure.
Is it difficult to sell products?

Not really, if you know where to find people on the internet who are very interested in a product. If you make the right people aware of the right product, it's no more difficult to make a sale than it is to recommend something free.
Can I really earn money for free as an affiliate?

You can sign up for thousands of affiliate programs for free, get an affiliate link and use it for free on the internet to recruit customers for that particular provider. So it's all free, and you just have to spend your time promoting products, which of course is not free in a capitalistic world.
I already have a reach on the internet, is that an advantage?

Of course, it is! The greater your reach on the internet, the more people you can reach, and the greater is your income potential. In the end, it's hardly relevant how you reach these people, it's all about the quality and quantity. You also need to know how to market your reach effectively, and that's where Affiliness can help you.
Sign up for the online course
Sign up for the free online course and learn the basics of making money on the internet by recommending other people's products and determining your own income!
Sign up now!