Earn up to $124 per new member and lifetime commissions
Earn up to $124 for each paying member with the free affiliate program from Affiliness and generate lifetime commissions from repeat orders and referred affiliates.
What I like most about the Affiliness affiliate program is the simple user interface and the transparent numbers and statistics. It makes the affiliate heart happy to work with such affiliate programs.
The affiliate program is easy to use, and you can quickly find your way around your affiliate account. I am very happy with my decision to join and look forward to a long cooperation.
It is very difficult to find a product that you can recommend in good conscience. This is especially true for products from the financial and business sector. The offer from Affiliness is recommendable.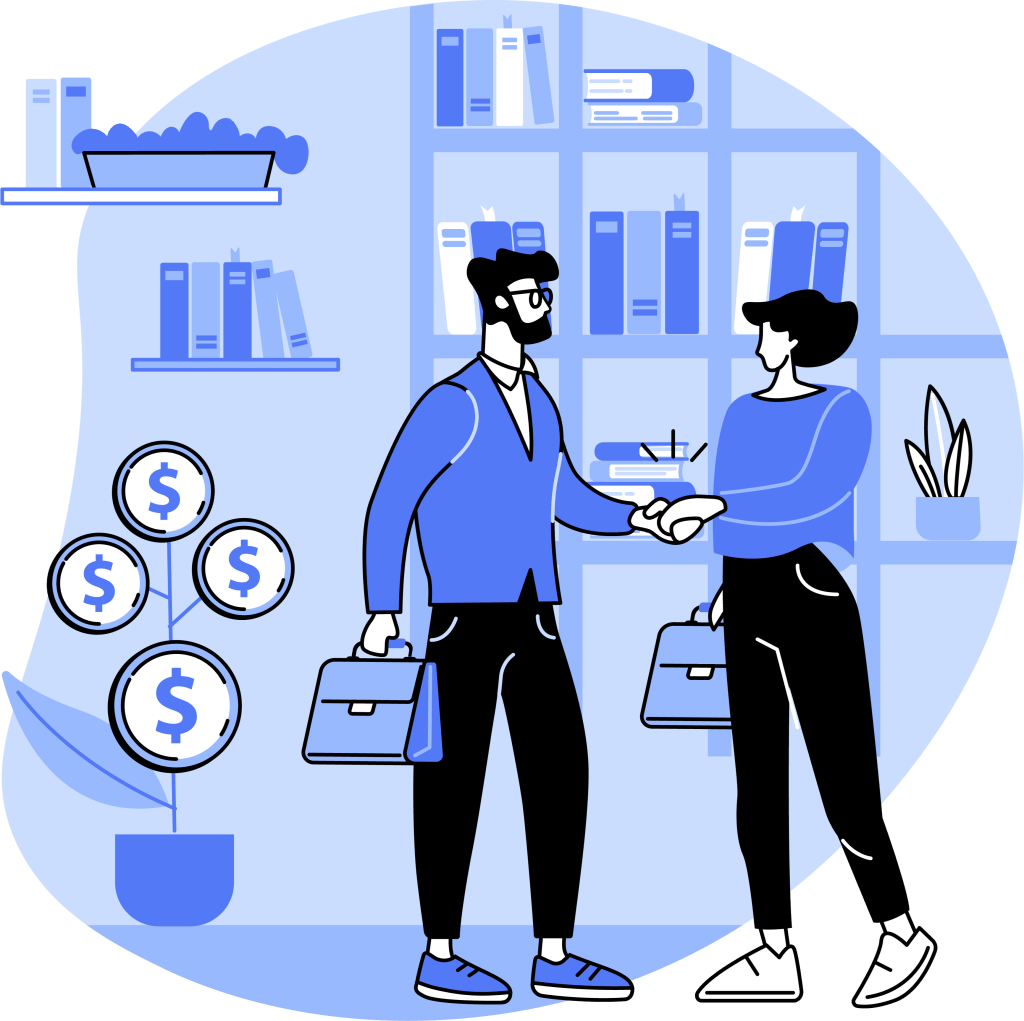 Why you should earn money on the internet as an affiliate with Affiliness
There are many ways to make money in the financial and business world. The Affiliness affiliate program is one of the unique and very lucrative options for all interested parties, as the following features show.
Quality and customer value
Affiliness products are high quality and offer great value to buyers. Prospective buyers will be grateful to you for bringing Affiliness to their awareness.
Fair commissions
As an affiliate of Affiliness, you will receive a fair share of 25% to 50% of all sales. So even with a small amount of commissions, you can earn high total revenue.
Remuneration for life
Once you refer a customer, you will get a lifetime share of all their orders. As long as your customer buys products from Affiliness, you will always earn a share of the revenue.
Ready advertising materials
So that you can start earning money immediately after signing up with the affiliate program, you will receive numerous ready-made and professional advertising materials.
100% transparency
In your affiliate account you will find all important figures and statistics, and you can not only track your advertising activities, but also track every single commission.
Smooth payouts
From a balance of 10 dollars, your commissions are automatically paid out once a month as a credit via PayPal or bank transfer, quickly and securely.
Requirements for participation in the affiliate program
As an affiliate of Affiliness, there are some requirements that must be met for a long-term and successful collaboration.
Basics in online marketing

You should at least understand the basics of how to attract potential buyers to a product on the internet. Ideally, you have a website, a blog, or a lot of followers.

PayPal or bank account for payouts

An active PayPal or bank account that accepts either EUR or USD is required for payouts. Other currencies are not supported for payments.

Permission for home work

You must have a permit to work from home and file your tax number in your affiliate account. Minors can participate in the program only after consultation with their parents.

Taxation of revenue

All earnings must be reported to the tax office and, if applicable, taxed. You have to pay tax on your income like any self-employed person or freelancer.
Sign up for the affiliate program
Yes,

I would like to sign up for the affiliate program for free and start promoting high quality Affiliness products for fair commissions in just a few minutes...
Frequently asked questions and answers (FAQ)
The following questions are frequently asked by affiliates. If you have further questions, please contact support via contact form.
Can I get started immediately after signing up?

Yes, after signing up, you can log in to your affiliate account and immediately use all advertising tools to promote Affiliness. Please note that each affiliate account and its activities are periodically reviewed for illegal use and violations of the rules for affiliates.
How can I earn money with the affiliate program?

After you have become a registered affiliate, you log in to your affiliate account and use the existing promotional tools or affiliate link to recruit new members to Affiliness. For each newly recruited member, you will receive an initial commission and subsequent commissions if the member purchases additional products in the members area.
How much money can I earn with the affiliate program?

Earnings depend very much on the quality of the prospects referred. The amount of revenue is also strongly influenced by the number of users who buy and the number of follow-up products. It is not possible to make a blanket statement about the level of earnings.
Can I generate passive income with the affiliate program?

Passive income is easily possible with the affiliate program. You use your special referral link in your account and invite new affiliates to the program. You will receive 25% of all your affiliates' earnings for life, which gives you 100% passive income.
How often is a payout made?

The payouts are made at the end of each month, at the latest by the 10th of the following month. Each affiliate receives his commissions once a month in a collective credit note as soon as he has reached the payout threshold of 10 dollars.
Is there a payout threshold?

Yes, 10 dollars. Since each payout incurs fees that are not passed on to the affiliate, a payout is only made from a balance of 10 dollars. Smaller payouts do not make sense and unnecessarily increase the billing effort and transaction fees.
Do I have to provide a minimum performance as an affiliate?

Participation in the affiliate program is not tied to any minimum performance. Each affiliate decides for himself how "actively" he wants to promote the offer, and thus also influences his earnings. It should be noted that we reserve the right to delete inactive affiliate accounts that have not generated clicks and commissions in the last 6 months.
Why do I receive a dynamic commission of up to 50 percent?

Depending on the product, the amount of the commission varies between 25% and 50%. The amount of commission for affiliates is determined for each product on a case-by-case basis based on a number of factors.
Can I also invite affiliates to join the affiliate program?

Yes, you can invite new affiliates to join the program through your referral link and receive a 25% share of all their earnings. This is passive revenue that is automatically credited to your affiliate account when an affiliate you refer earns a commission.
Can I track my advertising activities?

Yes, you can create your own affiliate links and associate them with any promotional activity. If the promotional activity results in a commission or clicks, you can see it in the live statistics for the corresponding tracking link.
Am I allowed to promote Affiliness through cashback platforms?

No, the user must voluntarily become a member or buy something from Affiliness without any compensation. It is in our interest to attract only qualified and active members who are really serious about earning money on the internet and building their own online business.
Is click advertising allowed in search engines?

Yes, as long as the ad does not compete with Affiliness ads, it is even recommended to run PPC ads to promote Affiliness. The important thing is that the ad targets just the right prospects who want to make money online from home and build an internet business.
Does the Affiliness program also exist in an affiliate network?

No, we have an internal affiliate program and there is no need or interest from our side to cooperate with an affiliate network to offer an affiliate program. On the one hand, the fees of the networks are too high and reduce the earnings of our affiliates, on the other hand, we do not have full control over the affiliate program there.
Why does Affiliness rely on an internal affiliate program rather than an affiliate network?

It is possible to run an affiliate program through an affiliate network, but this way you have too little control over most of the details, plus the networks charge high fees (20% and more), which means affiliates end up making much less money on each commission.
Do I have to pay tax on the earnings?

Yes, participation in the affiliate program requires that the affiliate reports his activity to the tax office and pays proper taxes on his income. If the Affiliate is not subject to VAT, he will receive his commissions without VAT portion.
Can I order through my own affiliate link?

No. Affiliates who try to order a product through their own affiliate link in order to get a price advantage will be excluded from the affiliate program. The corresponding commissions will be cancelled.
Can I delete my affiliate account?

Yes, the cancellation must be made in writing. It is sufficient to email the support. Your affiliate account will be deleted as soon as all open credits have been processed and paid out. For various reasons, an affiliate cannot delete his account himself.
Sign up for affiliate program
Sign up for the fair and lucrative Affiliness affiliate program for free and start earning today up to $124 for every new Affiliness member and lifetime commissions!
Sign up now!